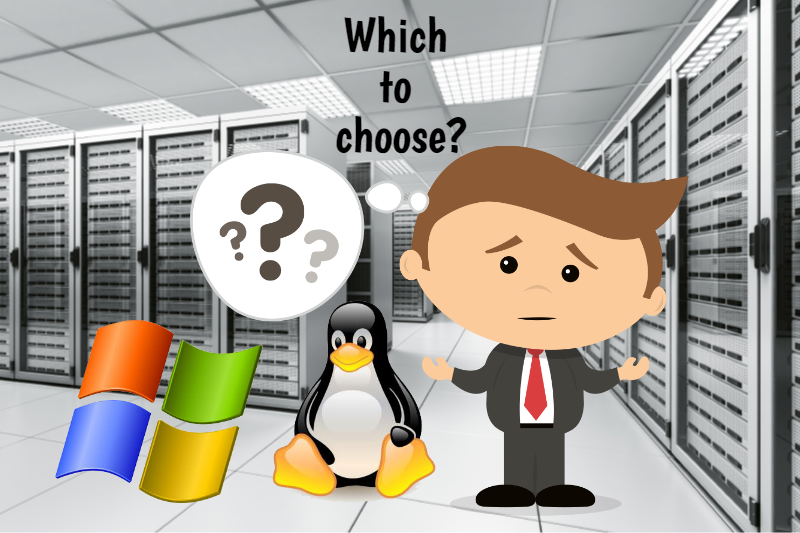 Building a website for any business isn't a hard task anymore today. Online business environments are currently completely filled with websites which help in bringing new clients by attracting them with their pleasant appearance, good customer services and loyalty programs. But the website owners or entrepreneurs need to remember that to succeed in future, they need to opt a proper hosting plan. The website speed and accessibility depends on the server's capability which in turn helps in building strong relationships with the clients.
Operating system (OS) also plays a major role in the smooth working of a website. While selecting the operating system, you must be alert and attentive as it would confuse you due to multiple OS choices available in the market. Every so often, online business owners don't have the idea of which OS they actually need. Ultimately, when there is high traffic on the website, it can't handle the load and results into low functionality, poor performance and regular downtimes. To avoid this here's a guide on how to choose the operating system for your virtual private server –
There are two types of operating systems basically – Linux Operating System and Windows Operating System.
Linux Operating System –
Linux operating system is considered to be the best operating systems for a virtual private server. Since it's an open-source platform, there are several Linux distributions to choose from. But out of those just five lead – CentOS, Debian, Ubuntu, Red Hat Enterprise Linux and Fedora.
CentOS – It is best for a single site VPS and one of the preferred choices for a shared web hosting server. Trusted for its reliability, it also enables to manage overselling. One of the best facts about CentOS is that since its availability, several bugs and security flaws have been washed off. Also, it uses rpm for its packet manager but the stability cost is outdated versions of software, if stable versions are used. Since CentOS is a RHEL rebuild, the industry benchmark for the enterprise grade Linux servers. Additionally, this permits it to be supportive to some enterprise software in case, they aren't supported by the service providers.
Debian – One of the best features of Debian is that professional developers can create packages which are packed inot small packets for the users to install. The drivers are developed by users of GNU/ Linux / GNU/kFreeBSD which benefits in long term hardware support after the production of new hardware stops. Also, Debian community is quite responsive to fixing bugs in the system.
Ubuntu – One of the identifiable Linux distributions, Ubuntu is the easiest to learn and use, then may it be on desktop or servers. Release of updates like Windows and Mac operating systems is also one of the reasons for its popularity. But it's frequent updates gives rise to bugs. The latest Ubuntu LTS distribution is the best place to start for new Linux users. If you require support, online communities are there to help you out.
Red Hat Enterprise Linux (RHEL) – Though being a paid operating system, Red Hat is the benchmark distribution for enterprise grade Linux servers. Since RHEL handles heavy loads, most enterprise level software support it. Additionally, there are some enterprise software providers that offer support only to RHEL which is an incentive to use Red Hat.
Fedora – Another Linux-based operating system, Fedora is flexible and therefore, it's easy to create own Linux-based distribution for everyone. Focused on security, Fedora contains a firewall right from the start and is easily configurable by using terminal or through the graphical interface. There are also, custom security enhancements that are derived from its connection with RHEL. In addition, it's also a market leader in the world of virtualization.
Windows Operating System –
There are very few who choose Windows OS for their virtual private servers since it costs more as the hosting service requires to pay for the license for installation. The reason for why people still opt for Windows OS is because they require .NET applications or maybe they are used to it.
One could be confused as to which operating system would be the best for their virtual private server. But you can take the advice of your web developers on which applications they require or familiar with. Remember every OS has its strengths, faults and quirks and so, you won't find any one that is superior to the other. Summarizing the content, I would suggest you to choose an operating system depending upon the business requirements, what you know, are comfortable with and your business should run fine.