Cheap Domain Names
with bodHOST Starting at $11.13/mo only
Auto-renewal option
DNS management
Wide range of TLDs
Domain privacy protection
Get Started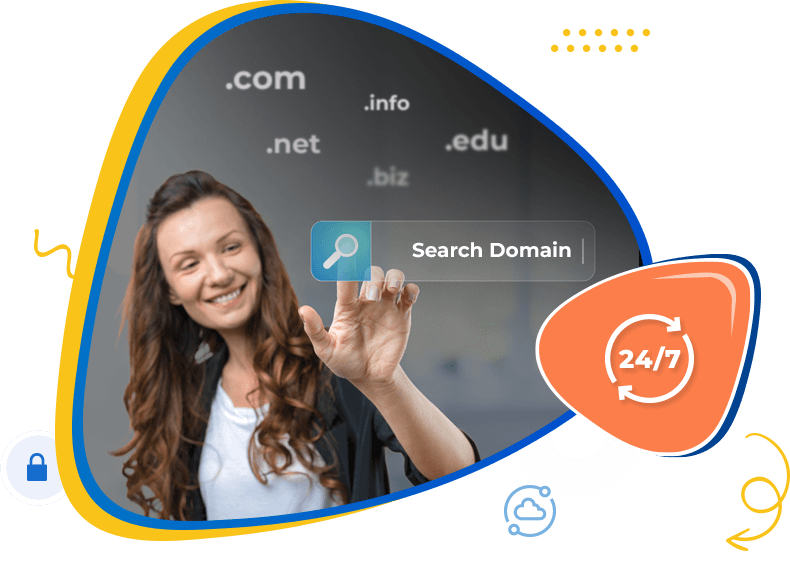 Choose the Best
Domain Name for Your Business
Buy a domain name and save big with our cheap domain name registration! Get reliable domain registration services with affordable pricing and take your online presence to the next level.
Popular
Personal
Business
Adult
ccTLD
Other
Find A Domain
& Create A Website !
Get your perfect domain name at an affordable price with our cheap domain registration services. With a wide range of domain extensions to choose from and a simple registration process, we make it easy for you to get online so start building your website today!
Why Choose

Our Domain Name Service?

Experience hassle-free domain management with our comprehensive and user-friendly service, backed by round-the-clock support from our expert team.
Flexible Billing Options
Our domain name service offers flexible billing options, such as monthly, annual, and multi-year billing, making it easy to customize your billing cycle based on your needs and budget.
User-Friendly Interface
Our domain name service features a user-friendly interface that makes it easy to manage your domain and perform various tasks, such as updating DNS settings, modifying contact information, and more.
High-Security Standards
Our domain name service incorporates robust security measures, including two-factor authentication, SSL/TLS encryption, and DNSSEC, to protect your domain against unauthorized access and cyber threats.
Value-Added Services
In addition to domain registration, we offer a range of complementary services, including website hosting, email hosting, SSL certificates, and more, to help you build and grow your online presence.
We don't take shortcuts in offering the Top Domain Registration Service
Free DNS
Management
Auto-renewal
Option
Secure Domain
Locking
Affordable
Pricing
Experience Seamless

Domain Purchase with bodHOST
bodHOST is an efficient and reliable domain provider that offers a wide range of TLDs to choose from. With bodHOST, domain transfer is a breeze and can be easily completed in just a few simple steps. Our user-friendly interface allows you to quickly search and purchase your desired domain name.
Furthermore, bodHOST offers secure domain locking and domain privacy protection to ensure the safety and privacy of your personal information. Our DNS management tools and auto-renewal option make domain management effortless, while our flexible payment options make transactions easy and hassle-free. With 24/7 customer support, you can rest assured that any queries or issues you may encounter will be addressed promptly and professionally. Experience seamless domain purchase with bodHOST today and enjoy a hassle-free and reliable domain registration experience.
Looking for

Web Hosting Solutions?

Discover fast, reliable, and affordable hosting solutions for your website with our expert services.
Not finding the right solution?
Don't hesitate to contact us, our expert support team will be happy to assist you.
The most common

Domain Name FAQs

Find answers to the most common questions about domain names, including registration, transfers, renewals, and more, in our comprehensive FAQ section.

1. What is a domain name?

A domain name is a unique identifier that represents a website or an online service. It is the address that people type into their web browsers to visit a website or access an online service. A domain name consists of two main parts: the name itself (such as "google" in google.com) and the top-level domain (such as ".com" or ".org"). It is used to simplify the process of accessing websites or online services, and to give them a memorable and easy-to-remember name.

2. How do I register a domain name?

To register a domain name, the first step is to search for the availability of the domain name you want to register. The domain providers offer a domain name search tool that allows you to check the availability of your desired domain name.

Once you find an available domain name, you can proceed to register it with the domain provider of your choice. During the registration process, you will need to provide personal and payment information, and select the registration period. The best domain providers offer easy-to-use registration tools and competitive pricing to help you secure the perfect domain name for your website.

3. Can I buy a domain name without having a website?

Yes, you can register a domain name without a website. In fact, many people register domain names for future use or to protect their brand name. Registering a domain name without a website allows you to secure the domain name you want before someone else does. Once you have registered the domain name, you can point it to a website later or use it for email or other online services. Many domain providers offer domain registration services, and it is a straightforward process that can be completed quickly and easily.
---
You'll Love Us

Just Like Our Customers Do

Our services receive 5 star reviews across the board on wide range of platforms. Take a look at what our fellow users have to say.
Michael Johnson
11 November 2018
I've been using bodHOST's domain registration service for several years now, and I have never had any issues. Highly recommended.
Jennifer Rodriguez
27 May 2018
I recently registered a domain with bodHOST, and I was impressed with how easy the process was. The domain was up and running within minutes.
Anthony Williams
7 December 2017p
I needed to transfer my domain to bodHOST, and the process was seamless. Their transfer tools made it easy to move my domain, and their pricing is competitive.
I've been using bodHOST for my domain registrations for years, and I've never had any issues. The registration process is simple, and their customer support is excellent.
Christopher Perez
17 July 2017
bodHOST's domain registration service is top-notch. The website is easy to use, and the support team is always available to help with any questions.