Top Windows Shared Hosting
by bodHOST Starting at $1.09/mo only
24/7 Customer Support
Unlimited Email Accounts
Remote IIS Management
Advanced Security Options
Get Started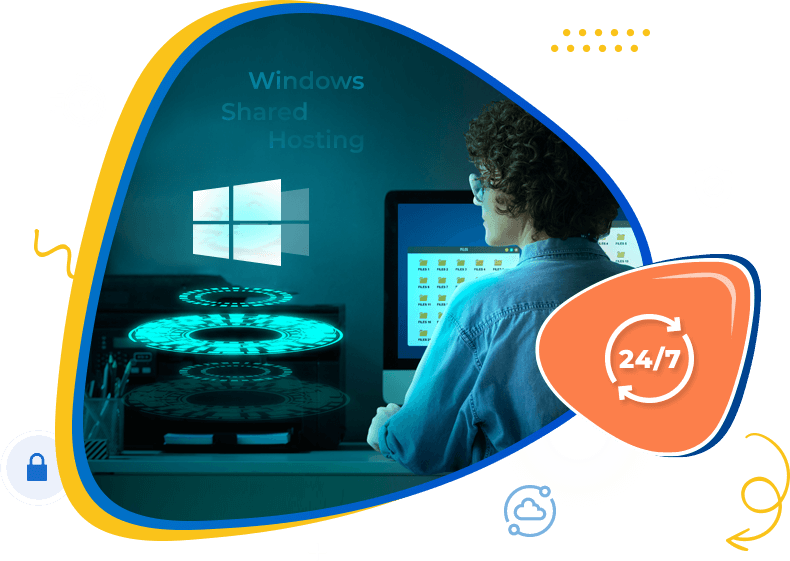 Choose Cheap
Windows Hosting Plans
Enjoy reliable and affordable Windows hosting solutions tailored to meet your business needs without breaking the bank.
Windows Starter
$1.09/ mo
Based on quarterly billing
5 GB Storage
25GB Bandwidth
Plesk Control Panel
Host up to 2 websites
Unlimited Email Accounts
No Free Domain
24*7 Human Support
99.95% Uptime
Buy & Renew at same cost
Windows Standard
$5.49/ mo
Based on monthly billing
10 GB Storage
50GB Bandwidth
cPanel Control Panel
Host up to 5 websites
Unlimited Email Accounts
Free Domain*
24*7 Human Support
99.95% Uptime
Buy & Renew at same cost
Windows Business
$7.14/ mo
Based on monthly billing
20 GB Storage
200GB Bandwidth
cPanel Control Panel
Host up to 15 websites
Unlimited Email Accounts
Free Domain*
24*7 Human Support
99.95% Uptime
Buy & Renew at same cost
Why bodHOST

as your windows host?

Trust your online presence with bodHOST's reliable Windows shared servers, and opt for a hassle-free, worry-free online experience.
Advanced Security
Our Windows shared hosting comes with advanced security measures, including firewalls and malware protection, to keep your website safe from cyber threats.
Expert support
We understand that technical issues can arise at any time, which is why our support team is available 24/7 to assist you with any issues you may encounter.
Years of Experience
We have over 20 years of experience in the web hosting industry, providing reliable and trusted hosting solutions to customers worldwide.
Why Choose

Our Windows Shared Hosting?

Empower your business with our robust and secure Windows Shared hosting and ensure uninterrupted operations
Flexibility
bodHOST's Windows shared hosting plans are flexible, which means that you can upgrade or downgrade your plan at any time based on your business needs. This flexibility ensures that you can easily scale your hosting plan as your website traffic and data storage requirements change over time.
Money - Back Guarantee
bodHOST offers a 30-day money-back guarantee on Windows shared hosting plans. This means that, if you are not satisfied with our service, you can cancel your hosting plan within the first 30 days and get a full refund. This ensures that you can try our services risk-free.
Advanced Features
Our Windows shared hosting plans come with advanced features such as ASP.NET, MVC, Silverlight, and AJAX support, as well as, support for popular databases such as MySQL and MSSQL. These advanced features ensure that your website can handle complex functionality and data requirements.
Robust Infrastructure
bodHOST's Windows shared hosting plans are hosted on a robust infrastructure, which ensures that your website runs smoothly and efficiently. Our infrastructure includes state-of-the-art servers, high-speed network connections, and redundant storage systems, which ensure that your website is always online and accessible.
We don't take shortcuts in offering the Best Windows Shared Hosting
Advanced
Firewall
24/7
Monitoring
Automatic
Backups
Email Spam
Protection
Experience Fully Managed

Shared Hosting for Windows Servers
With bodHOST, you can enjoy the benefits of a fully managed hosting service, which means that you don't have to worry about the technical aspects of managing your server. Our team of experts takes care of everything from server configuration to software updates and security patches, so you can focus on running your business.
With bodHOST's fully managed windows shared hosting, you can enjoy a range of benefits, including high-performance servers, advanced security features, and reliable uptime. Our hosting plans are designed to meet the needs of businesses of all sizes, from small startups to large enterprises. With 24/7 monitoring and support, you can rest assured that your website is always up and running smoothly. And with automatic backups, you can easily restore your website in case of any data loss or corruption. Overall, bodHOST's fully managed shared hosting for Windows servers is an ideal solution for businesses that want a hassle-free hosting experience.
Searching for

Alternative Solutions?

Don't get stuck with a solution that doesn't work for you. Explore alternative options to find the best fit for your needs.
Need a perfect hosting solution?
Contact our experts today and get the help you need to find the perfect hosting solution for your business.
The most common

Windows Shared Hosting FAQs

From pricing to technical specifications, discover everything you need to know about Windows Shared Hosting with our informative resources and helpful experts.

1. What is Windows Shared Hosting?

Windows Shared Hosting is a type of web hosting service that uses a Windows operating system to host multiple websites on a single server. It is considered one of the best windows web hosting solutions available, providing a reliable and cost-effective option for businesses and individuals looking for a fast and secure hosting environment.

With its powerful infrastructure and advanced features, Windows Shared Hosting is also known for being one of the

fastest web hosting solutions

on the market, offering high-speed connectivity and optimized performance for websites of all sizes. Whether you're a small business owner or a large enterprise, Windows Shared Hosting can provide the speed, security, and scalability you need to succeed online.

2. What are the benefits of using bodHOST as a Windows Shared Hosting provider?

There are several benefits of using bodHOST as your Windows Shared Hosting provider. As a leading provider of web hosting services, bodHOST offers some of the best windows hosting solutions available, with advanced features and superior performance.

Some of the key benefits of using bodHOST as your windows shared hosting provider include our robust infrastructure, optimized for high-speed connectivity and reliable uptime. bodHOST also offers a range of hosting plans to fit your specific needs and budget, including shared hosting, VPS hosting, and dedicated servers.

In addition, bodHOST provides a user-friendly control panel and expert support, making it easy to manage your website and resolve any issues that may arise. With advanced security features and regular backups, you can trust that your data and website are safe and secure with us.

Overall, if you're looking for the best windows shared hosting provider, bodHOST is an excellent choice, offering superior performance, advanced features, and expert support at an affordable price.

3. Should I opt for Windows shared hosting or Linux shared hosting?

The choice between Windows and Linux shared hosting depends on several factors such as the website's technology stack, the level of technical expertise, and personal preferences.

If the website is built using technologies like ASP.NET, MSSQL, or Windows-specific applications, then Windows shared hosting may be the better option as it is optimized for Windows-based technologies.

On the other hand, if the website is built using open-source technologies like PHP, MySQL, or runs on a platform like WordPress or Joomla, then Linux shared hosting may be a better option as it is optimized for open-source technologies and provides more flexibility and customization options.
---
You'll Love Us

Like Our Customers Do

Our services receive 5 star reviews across the board on wide range of platforms. Take a look at what our fellow users have to say.
Sven Johansson
11 November 2018
For more than a year, I've been using bodHOST's Windows Shared Hosting, and I've had an excellent time. Their servers are fast and reliable, and the support team is always available to help with any questions or issues
The standard of service offered by bodHOST has amazed me. Their Windows Shared Hosting plans are affordable and offer advanced features like MSSQL and ASP.NET support. Highly recommended!
Maria Rodriguez
7 December 2017p
The best choice I ever made was switching to bodHOST for my Windows Shared Hosting. Their control panel is easy to use, and the uptime is excellent. I haven't experienced any issues with my website since moving to bodHOST.
Sarah O'Connor
16 August 2017
I needed a reliable Windows Shared Hosting provider for my small business, and bodHOST delivered. Their plans are affordable, and the support team is always helpful and responsive. I would recommend them to anyone looking for a quality web hosting provider.
Giuseppe Russo
17 July 2017
Since I've been a customer for a while, bodHOST has consistently delighted me with their customer service. Their Windows Shared Hosting plans offer great value and performance, and their support team is knowledgeable and friendly. I wouldn't consider using anyone else for my web hosting needs.