Cheap Domain Transfer
by bodHOST Seamlessly transfer on a click
Competitive Pricing
Simple Transfer Process
Extend Registration Period
Transfer Multiple Domains at Once
Get Started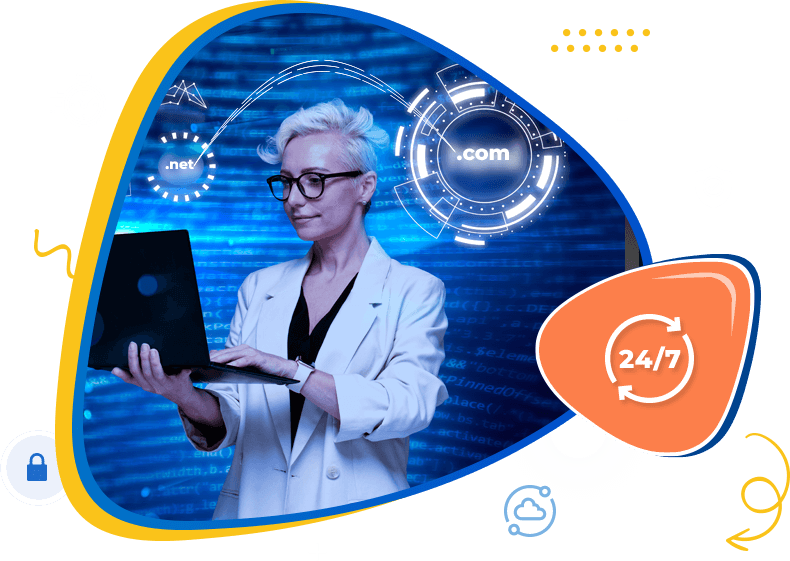 Why Transfer

Domain Name to bodHOST?

Make the switch to bodHOST and experience a seamless and uninterrupted online presence.
Top Security Standards
bodHOST provides advanced security measures to keep your domain safe, including industry-leading SSL certificates and robust firewalls, ensuring complete protection against cyber threats.
Automatic Renewals
bodHOST offers automatic renewal options to avoid the risk of losing your domain by ensuring that it remains registered, so you can focus on your business and not worry about manually renewing your domain.
24/7 Expert Support
bodHOST's team of experts is available round-the-clock to assist with any domain-related issues and ensure that your online presence is always available to your customers, providing you with the peace of mind to focus on growing your business.
Advanced DNS Management
Take full control of your domain with advanced DNS management tools, allowing you to customize and manage your DNS settings with ease, giving you the flexibility to adapt to evolving business needs.
Transfer Domain in

Three Easy Steps

Move your website seamlessly to a new domain registrar in just three simple steps.
Authorization
Request authorization from your current domain registrar and obtain a transfer key/code to initiate the transfer process.
Initiation
Initiate the domain transfer process with the new registrar by providing an authorization code and completing necessary transfer requirements.
Confirmation
Confirm the domain transfer and wait for it to complete, to ensure a successful transfer of the domain to the new registrar.
Additional Perks we offer with Domain Transfer Service
Domain
Locking
No Downtime
During Transfer
Automatic
DNS Updates
Free Email
Forwarding
Experience Flawless

Domain Transfer with bodHOST
Experience a hassle-free migration of your domain with bodHOST, as we provide seamless and uninterrupted transfer services, ensuring no downtime during the move of your domain. Our dedicated team of experts is available 24/7 to provide assistance and support at every step of the process, including the seamless transfer of your DNS records.
We offer top security standards and automatic renewals to keep your domain protected, and we also provide WHOIS privacy protection, domain forwarding, email forwarding, and domain locking to ensure that your domain is in good hands. Trust bodHOST to help you move your domain with ease, and experience the benefits of our free website builder tools and DNS management services, giving you complete control over your domain.
Looking for

Web Hosting Solutions?

Explore bodHOST's wide range of web hosting solutions for a reliable and secure online presence.
Searching for something different?
Get in touch with our executives for expert assistance and support.
The most common

Domain Transfer FAQs

Get quick and easy solutions to your queries related to the domain transfer process with bodHOST by exploring our comprehensive list of frequently asked questions and expert answers.

1. How do I initiate a domain transfer to bodHOST?

To initiate a domain transfer to bodHOST, you need to first unlock your domain with your current registrar and obtain the authorization code (also known as EPP code or transfer key). Next, visit the domain transfer page on bodHOST's website, enter your domain name, and follow the instructions to complete the transfer process. Once initiated, you will receive an email notification from bodHOST regarding the transfer process, and you can track the status of your transfer through your account dashboard.

2. How long does the domain transfer process take?

The duration of the domain transfer process can vary depending on various factors such as the domain extension, the current registrar, and the responsiveness of the registrant to approve the transfer request. Typically, the domain transfer process can take anywhere from 5 to 10 days to complete. However, it is important to note that the transfer process cannot be completed until the current registrar approves the transfer request.

3. What information do I need to provide for a domain transfer?

To transfer your domain to bodHOST, you need to provide the authorization code (also known as EPP code or transfer key) obtained from your current registrar. You may also need to provide the administrative contact email address associated with the domain, as this email will receive the transfer confirmation request. Additionally, you will need to ensure that the domain is unlocked with the current registrar, and any privacy protection services associated with the domain should be disabled during the transfer process.
---
You'll Love Us

Just Like Our Customers Do

Our services receive 5 star reviews across the board on wide range of platforms. Take a look at what our fellow users have to say.
Sean Murphy
11 November 2018
I was pleasantly surprised by the quick and efficient support provided during my domain transfer.
I saved a significant amount of money by transferring my domain to bodHOST, thanks to their competitive pricing and special offers.
Michael Byrne
7 December 2017p
I transferred multiple domains to bodHOST, and each transfer was completed within the expected time frame.
Ciara O'Connor
16 August 2017
I appreciate the security measures implemented during my domain transfer, which ensured my data was safe and secure.
The expert support team at bodHOST was available 24/7 and provided timely updates during the transfer process.