Halloween is the perfect time to get your spook on. Celebrated on 31st October every year, it is the day to dress up in costumes and indulge in various scary activities and parties. It is especially famous for children going door-to-door trick-or-treating and collecting an assortment of sweets. Originally, Halloween began as an ancient Celtic festival in Samhain's name, where people used to light bonfires and wear dresses to scare away the 'dark spirits' and ghosts.
Indulge in the brilliant Halloween Tricks and Special Web Hosting Treats your trusted web hosting provider, bodHOST has to offer this year.
Get an in-depth look into all of our exclusive web hosting offers to find the one most compatible with your website. We bet these exciting TREATS from bodHOST will remain with you long after the zombies and spirits have faded into the dark.
Wondering, why we decided to TREAT you on Halloween with our spooktacular web hosting deals? The best reason- scaring away our competition and offering the best TREATS to our esteemed customers.
Presenting the DEALS and TREATS that bodHOST is offering this Halloween-
1. 40% OFF Web Hosting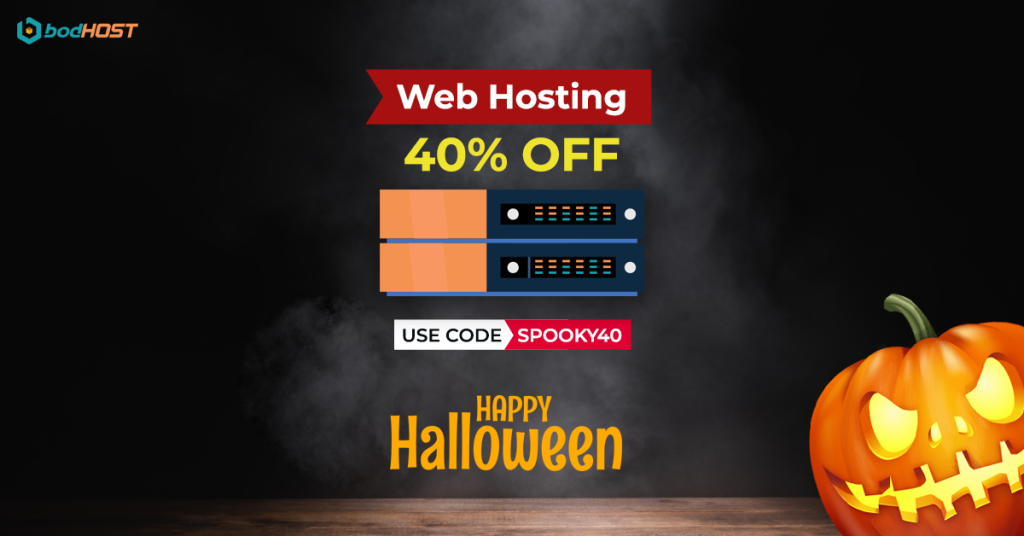 We offer the best web hosting services with 24/7 customer support, 99.99% guaranteed uptime, and migration assistance. You can also benefit from our Rated-III Data Centers for top-notched reliability, performance, and security. Get all of these and more exciting features this Halloween at flat 40% OFF with code SPOOKY40.
2. 20% OFF VPS Hosting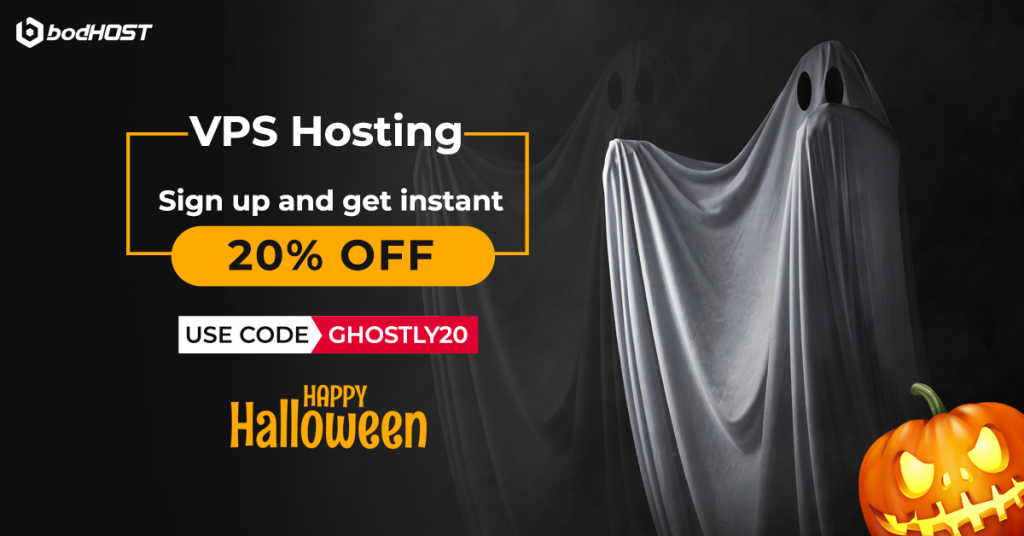 VPS Hosting allows you to enjoy the all the benefits of a dedicated server at affordable rates like those of shared hosting. Get the best of both worlds at 20% OFF for any VPS hosting plan (Linux and Windows) using the code GHOSTLY20.
3. 10% OFF Dedicated Servers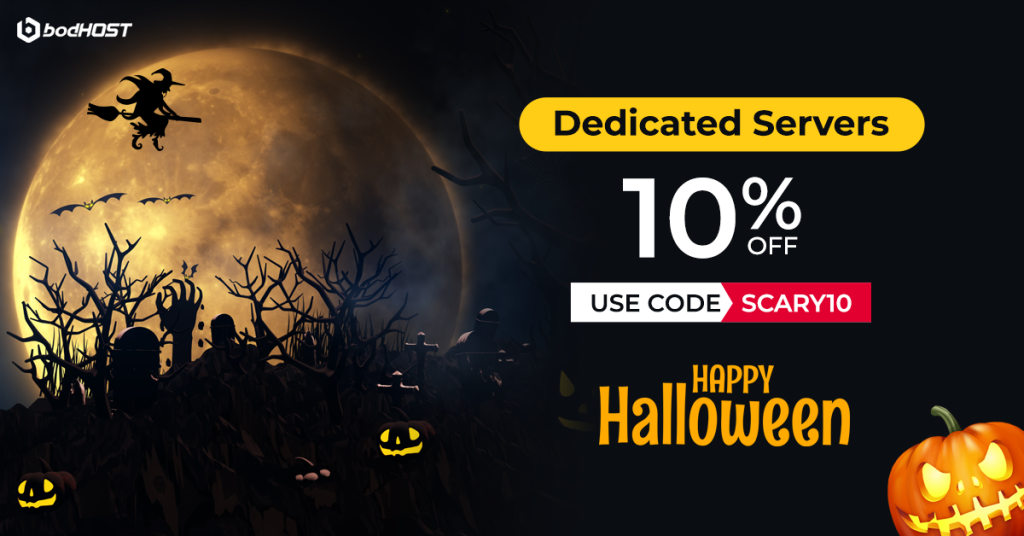 Dedicated servers provide complete control and safety for your sensitive and confidential database as well as workload. Best part? You have all of the server resources to yourself. Avail this offer now with 10% OFF all Dedicated Servers Hosting Plans with Treat Code- SCARY10.
4. 15% OFF Cloud Hosting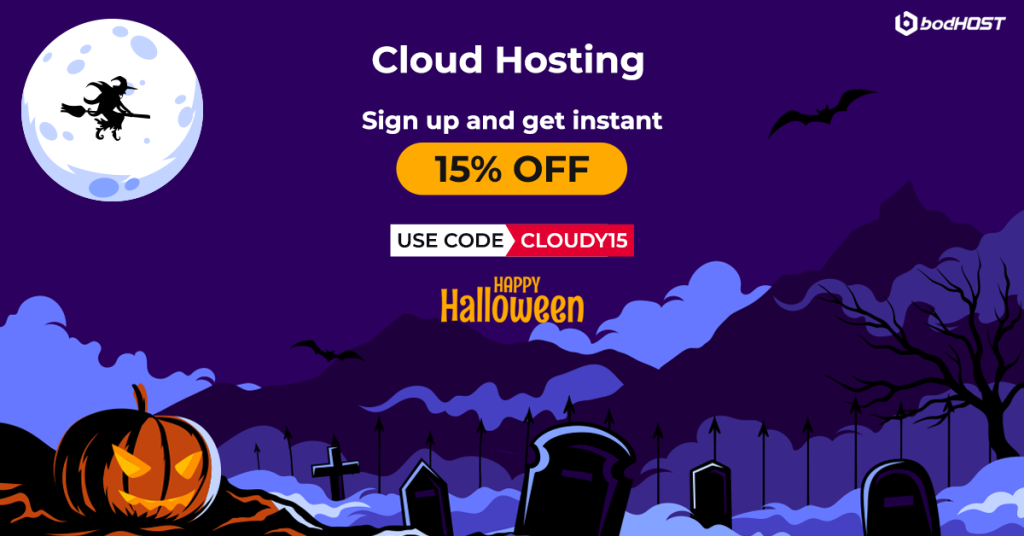 Unmatched reliability and scalability for business and mission-critical applications with 24/7 availability make Cloud hosting one of the best options for your website. Sign up for bodHOST Cloud Hosting and get an instant 15% OFF across all hosting plans. Use code – CLOUDY15.
5. 10% OFF Unmanaged VPS Hosting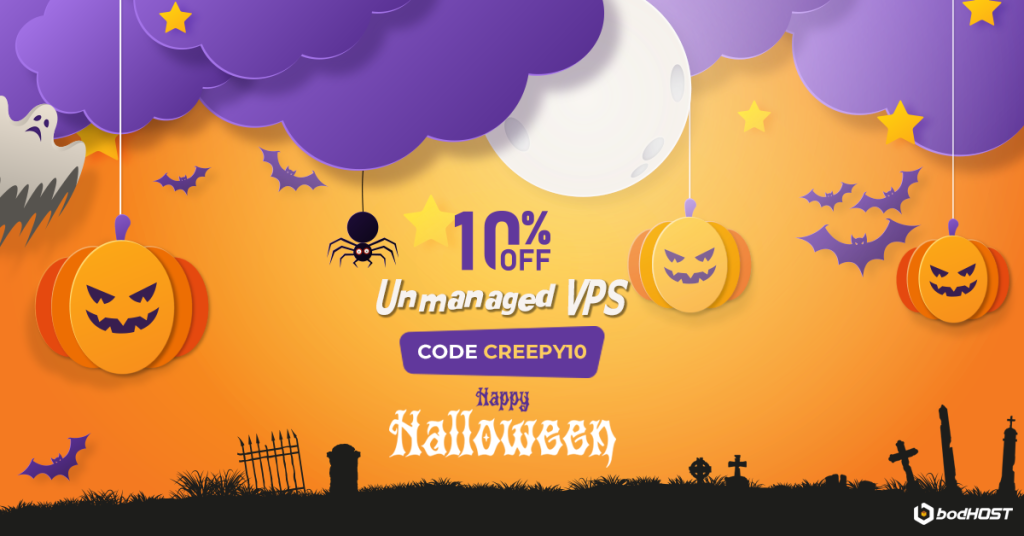 VPS hosting offers dynamic features including root access, advanced backup, and security, along with exceptional scalability, reliability, and the ability to select an operating system of your choice. Starting at only $9.99/Mo, bodHOST's VPS hosting provides the perfect foundation to build a successful website at extremely budget-friendly prices. Use code – CREEPY10.
So, how do you avail these tempting Web Hosting TREATS? Just visit the links mentioned above and add the desired service to the cart.
Remember, time is crucial, so ensure that you use these offers well in time to avail of their benefits.
Hurry, before the night takes over and the offers fade away
The entire bodHOST team wishes you all a Happy Halloween.
*Offer lasts till 05th November 2023