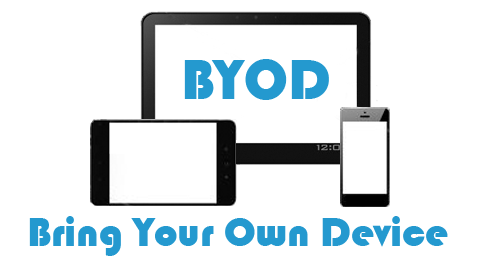 One trend that new technologies have rendered spontaneously in relation to work is known as BYOD (Bring Your Own Device). Company employees use it for daily work using terminals, therefore, and thereby receiving greater productivity. There are various advantages as well as risks of using BYOD.
Today, several technologies that are growing tremendously are now meeting to know the behavioral change in users. Cloud computing lets you to have access to the data and tasks which can be carried out anytime, from anywhere using an Internet connection. At the same time, mobile devices are growing and gaining capacities which can be used to execute complex processes.
The BYOD intends to take advantage of these opportunities to improve the performance of workers and, therefore, the efficiency of business processes. However, the philosophy of this trend is not only something as concrete as the personal device. Some people prefer to talk about BYOT (Bring Your Own Technology) or even BYOB (Bring Your Own Behavior), which goes beyond to embrace applications and refer to behavior.
The implementation of this new habit in businesses goes via reflection of several prospect that can be summarized in three different benefits.
Better Productivity
Most of the organizations don't allow changes, however if implemented it will make a good profit for them. For something as new as is the BYOD, the first thing is to evaluate how a business can be benefited if the new trend BYOD technology is implemented.
By using these devices for their own work, employees are doing it with some applications and a technology environment (including browser, word processor or email client) to which they are accustomed.
This way employees can work more comfortably and efficiently. Using the BYOD technology, gains in effectiveness and flexibility, leading to higher productivity have been noticed in the long run. Cloud computing tools enables a company to offer the same access to the employee, regardless of which machine employees use.
Safety Problems
There is no technology in the industry that doesn't have any risks. By utilizing their own devices to access corporate networks, using software that are not recommended by the company and the behavior of such users can escape the control of the IT department.
Enterprise networks consists important information for businesses and security of the data on priority. Therefore, it is essential to make sure about the sound systems from within, making the environment highly protected, regardless from where the access request comes from.
Impetus Must Come from Companies
It is necessary to control the employees from using their own devices to work. Implementation of BYOD cannot be left to spontaneity, it must be planned.
The IT department from every company must know and understand the requirements of employees, assessing whether to implement the BYOD technology. It is everyone's job to evaluate the benefits of implementing BYOD and calculate the costs of planning.