Today, mobility plays a significant role in the growth of many sectors, may it be the health, education, tourism or IT sector. Day-by-day as the new technologies like cloud computing are emerging, more people are traction by it. With the help of emerging technologies banks worldwide are now able to offer home-based online banking and mobile banking services, providing customers with a handier manner to manage their banking transaction, saving their precious time, while at the same time improving efficiency and the quality of service.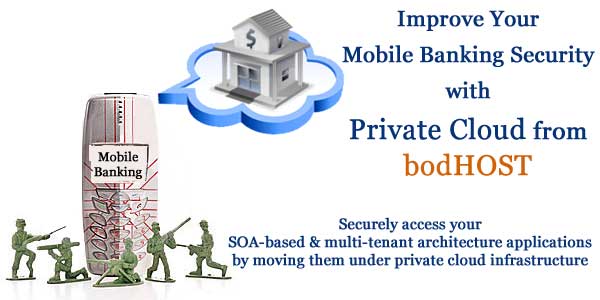 Among the fast growing technologies are BYOD and Mobile Banking. Today, mobile devices are expanding and being used for complex processes such as internet surfing, online shopping as well as for banking.
The BYOD (Bring Your Own Device) is one of the current trends people are going crazy about. It is a concept that enables users to make use of their own mobile devices to access any kind of information and perform various tasks. It proposes to take benefits of these chances to better the performance of bank customers and, therefore, the efficiency of bank processes.
The main advantage of BYOD is that it supports a mobile and cloud-centric IT strategy, which can offer a lot of benefits the end-user as well as organizations. Especially with collaboration, customers would be able to make financial transactions from their own compatible device through a fully secure and encrypted network.
Whether BYOD has been authorized or not, but when you manage it in a proper way, it isn't really any big security deal. Also, though the online banking seems to be a convenient way for customers, but there are some disadvantages of online banking.
Cyber criminals are targeting the online banking accounts frequently due to which the fraud schemes are becoming more complex. Since the security threats are rising daily, consumers are very concerned about the mobile banking security as well. As a result, banks require executing sufficient security measures or security layers to protect themselves and diminish the security concerns from consumers mind.
Nowadays, many banks are implementing cloud-based solutions in place for utilizing services such as email filtering, anti-virus and to promote products via streaming media. But, can cloud solutions overcome the fear of mobile banking security?
Does Cloud Hosting Really Help with Mobile Banking Security?
Since, cloud hosting has appeared in the industry, it has been considered as the best and cost-effective solution benefiting various sectors. Basically, the cloud hosting enables users to have access to their data and perform tasks at anytime, from any place, via any mobile devices supporting internet connectivity.
Cloud technology plays a very important role in Banking Sector and offers various benefits without compromising the security. Even though security is the biggest concern for banks and their customers, cloud hosting can still overcome the security issues by implementing multiple security layers, making mobile banking a safer way for customers to make financial transactions.
Within banks, it's all about the banking application and data. Since both the things are very critical and confidential for banks, it requires implementation of proper security measures or a fully secured cloud strategy to ensure the security of the data and application from hackers. While making a cloud strategy, banks can ensure the following things:
Find out the most important business functions that can be run in various cloud environments and organize the information by sensitivity.
Create a complete list of requirements relating to the business functions the bank will be operating in the cloud.
Additionally, banks can have a fully secured private cloud, as it is stronger than the public cloud and can help banks to retain control over their IT, apply accurate security and while offering reduced complexity, greater flexibility, and all other advantages associated with cloud computing.
Also, banks can choose to keep their databases inside and move only the SOA-based and multi-tenant architecture applications used by customers and internet staff under the private cloud infrastructure. It can help bank tellers and managers of branch to have access to the required products and applications using a single system or device. It also decreases the requirements such as branch servers as well as the bank staff doesn't require the latest desktop PC hardware.
Also, as the private clouds are set up within the banks firewall, the security threats are totally eliminated.