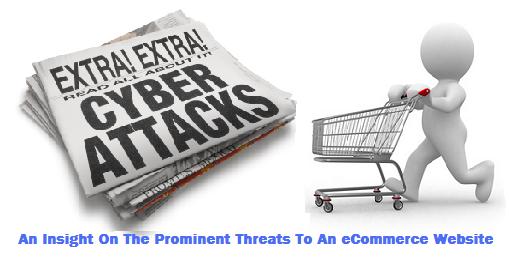 The main aspect of an online store website that determines the success is 'customer satisfaction'. It is important to ensure that the website is set up perfectly and functions efficiently. Having an impressive eCommerce website is extremely important in providing people with the most extravagant and authentic online shopping experience. It is crucial to consider certain important factors for ensuring that you have the most perfect eCommerce website. As uptime is a critical factor, the website hosting servers must be selected after analyzing the website requirements thoroughly. Apart from that, it is important to be aware of some possible threats to an eCommerce website for ensuring maximum security and maintaining the efficiency.
The most prominent threats that can impede the functioning of an eCommerce website include the following:
Malaware Attack
A malaware attack has a negative impact on the functioning of any website. Once your website is infected with some virus, it is down for some time till the virus is not removed. For an eCommerce website any amount of downtime has a direct effect on the business. Also, if the people who regularly visit your website come across a downtime, they will switch to some other website right away. For safeguarding your online store against the virus attacks, it is important to make sure that your web hosting company offers with an anti-virus protection software. Generally the powerful web hosting packages like VPS hosting and dedicated hosting comprise of a hardware firewall. This hardware firewall analyses the incoming traffic and prevents the unauthorized users from intruding in your website.
Threat To Customer Information
When people buy products through your website, they will have to enter the credit card related information for completing the payment transaction. Hackers are constantly looking for eCommerce websites that do not have proper security standards in place. It is important to select the best web hosting package for your eCommerce website that also consists of an SSL certificate. Security can be maintained in terms of accessing the merchant accounts and executing the online payment transactions through an SSL certificate. Preferably, you must invest in a dedicated SSL certificate. With a secured online store, you will be able to gain the trust of your customers. A dedicated SSL will depict that the SSL certificate is in the name of your company and dedicated to your website, this will add on to the authoritativeness of your website!
Slow Website Speed
Apart from the external factors, a slow website speed is the biggest barrier in the success of your eCommerce website. In the fast paced world today, people are not ready to wait for a life time to buy things online. If your website takes a long time to load, people will happily switch to any other fast eCommerce website that sells the same products as yours. Moreover, fast processing of the online payment transactions is also extremely important. For ensuring maximum website speed, it is crucial to sign up for a powerful web hosting platform that offers with all the necessary resources and features that will support website speed and reduce the possibilities of downtime to the website.
Identity Theft
Safeguarding customer 'identity' is also an extremely crucial factor when it comes to maintaining the efficiency of the website. Customer identity consists of personal information, preferences, interests and credit card related information. There can be some major threats to customer information caused as a result of false identities. In order to prevent this, you must ensure if the web hosting servers are efficiently managed and monitored constantly by the personnel of the web hosting company.
Denial Of Service (DoS)
Denial of service (DoS) or distributed denial of service (DDoS) is a method that hackers use for sending large number of automated requests to an eCommerce website. In terms of the website server, these requests look like they have originated from a genuine location, therefore the server responds to these requests. However, the volume of the requests overloads the server. The high volume of unauthorized traffic results in slowing down of the server or worst case scenario – it may completely block the genuine users from accessing the website.
These threats can influence the functioning of an eCommerce website to a great extent. If there are constant downtimes to an eCommerce website, people will not consider it for online purchasing in the future. Safeguarding the website is an important aspect for staying in the competition and gaining people's trust.