It is quite hard to imagine the consequences that an eCommerce website might face in case the necessary bank details get leaked. This will be quite financially and psychologically devastating for the website owners. So, to ensure that this  doesn't become a reality, eCommerce website owners must ensure that they have installed an SSL certificate on their website. Any eCommerce website every day handles a lot of user-sensitive data and with data security being the top-priority, eCommerce website owners must use an SSL certificate from a trusted provider. In the absence of an SSL certificate, the communication taking place between the customer and the eCommerce server remains open, making it easier for hackers to steal the data.
So, in this article, we will be covering various aspects of SSL certificates. This includes- brief on SSL certificates and their types.  Also, we shall be discussing the significance of an SSL certificate for any eCommerce website.
SSL Certificates
SSL or Secure Sockets Layer refers to an encryption protocol that helps in building trust with the customers by ensuring that the connection is secured. By encrypting the crucial data, SSL certificates make it difficult for attackers and hackers to gain any meaningful information out of it, thereby creating a safe and secure browsing environment for users. As a symbol of assurance, web browsers often give a number of visual cues like- a green padlock or even a branded URL bar. SSL certificates help in establishing a connection between the server and the user's browser with a secure session taking place at the backend. Usually, a key pair is present in SSL certificates, namely- a public key and a private key. This pair of keys work together to establish an encrypted connection.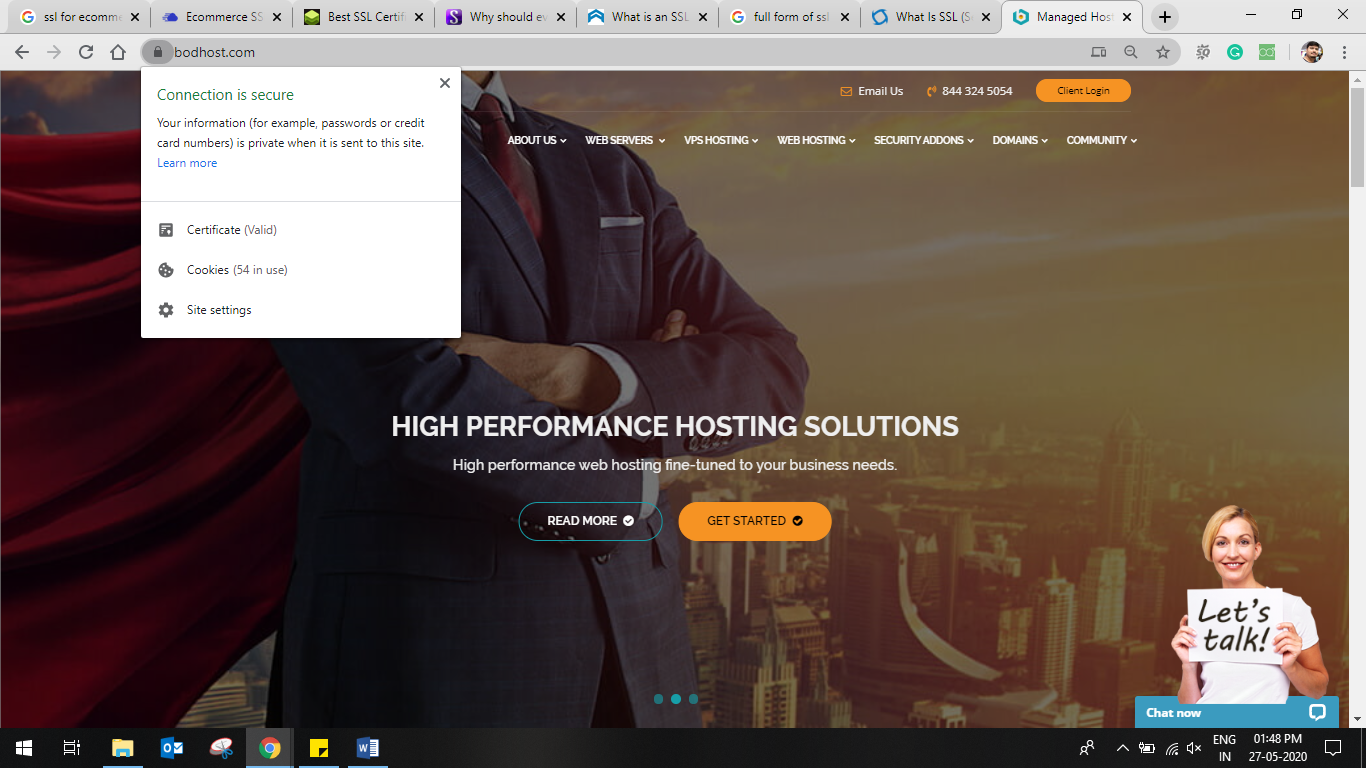 Visual Cues of a Secure Connection

Types of SSL Certificates
The following are various types of SSL Certificates that any certificate authority provides to the business-
Domain Validated (DV) Certificates:
The Domain Validation certificates are the least expensive certificate option that a business can avail. It usually comprises basic encryption along with the verification of the ownership of the domain name registration. Also, obtaining a domain validation certificate, it is not a lengthy procedure. Domain Validated certificates are mostly used by simple websites that don't offer additional assurance to their visitors.
Organization Validated (OV) Certificates:
Organization Validated certificates are a type of SSL certificate that provides a similar and higher assurance as that of an Extended Validation (EV) certificate by validating the eCommerce website. When an eCommerce website uses this SSL certificate, its URL changes to HTTPS and a padlock in the address bar appears a visual cue. This type of SSL certificate also depicts information on the website, making it different from any malicious website.
Extended Validation (EV) Certificates:
Extended Validation certificates offer the maximum security to an eCommerce site. Besides providing the highest safety, they are also the most expensive form of SSL certificates. Post-installation of this SSL Certificate, it displays a padlock sign on the website URL along with HTTPS, domain name and the country. In general practice, the EV certificates are installed by the premium eCommerce sites that have several processes such as user logins, making online payments and even collect some user sensitive data.
Now that we have seen the basics and types of SSL certificates, we shall be discussing the importance of SSL Certificates for an eCommerce website.
SSL Certificates and eCommerce Sites
For an eCommerce website, SSL certificates are an inevitable technology that can enhance its security. In case the website does not perform encryption, then the customers fail to get a warning regarding unsecured connections taking place on the Internet. Also, an unencrypted website makes it vulnerable to cyber attackers to read and get away with crucial information such as- passwords, login details, credit card details, along with other sensitive information that is sent or uploaded on the eCommerce website.
The following are the reasons why an eCommerce website needs to have an SSL certificate installed-
Accepting Secured Payments
In case an eCommerce website is looking to accept credit card payments online, then they must have a merchant account along with an SSL certificate. Most of the SSL certificate providers give out terms and conditions and also ensure that the payment accepting sites having SSL certificates installed on them. eCommerce sites can't risk any kind of theft being done to their customers at the time of shopping.
Protecting Login Credentials
Another significant and important reason why eCommerce sites need to have SSL certificates is to protect their customer's login credentials. eCommerce sites that have membership schemes expose opportunities for hackers to attack them and get away with the vital data. Poorly protected password pages are more vulnerable as cyber attackers can easily breach in.
eCommerce sites not only accept and secure the payment information but also collect vast volumes of user data regularly in various forms such as leads, questionnaires, etc. No eCommerce site owner or any user will want this information to get leaked. With an SSL certificate, other types of web form emails remain secure and as a result, more customers start getting associated with these sites.
Gives a Boost in Google SEO
In 2014, Google announced that websites having HTTPS would be getting a boost in terms of SEO rankings. For any eCommerce site, SEO rankings are important and they might not want to lose out on SEO rankings. So, to stay ahead of their competition and establish a strong digital presence, it is important that eCommerce sites install SSL certificates.
Concluding Notes:
Be it an eCommerce store website or any other website, the security of data getting exchanged on them is important. For an eCommerce site, it becomes inevitable to have SSL certificates installed as they accept online payments. Having SSL certificates also helps in building trust among the end customers of an eCommerce site.
If you own an eCommerce store and looking for cost-effective SSL Certificates for your website, then feel to reach out to the bodHOST Team to leverage unmatched web security.