WordPress has been the most widely used and trusted content management system for web design and development. It has played a significant role by helping the users to build their websites. The websites built using WordPress comprise a good market share of 34% of all the websites on the Internet. Based on an online report, WordPress stands at a market share of 60.8% in the content management system domain.
Over time and again, WordPress has always looked into integrating newer technologies for ensuring that there is a constant innovation process taking place for its users. The incorporation of newer technologies has helped the user to incorporate his vision and these development services have emerged steadily. These services, thereby, play a quite significant role in maintaining customer engagement.
So, here I'll be discussing some of key trends that are going to rule the WordPress domain in the year 2020-
1. Emergence of AI
AI has been the top trend in the technology domain for some years now and has been an inevitable component of a digital transformation strategy. With its benefits, AI is for sure going to boost the user experience and also boost the user website.
AI has been used by the companies in a number of ways like- reduced costs, automation of several business wings/departments. AI and its catalytic support are predicted to rise in 2020 as well. The web development companies will be dependent on the technology for enhancing customer satisfaction and improving productivity.
2. Multi-purpose Themes
The WordPress multi-purpose theme allows its users to create any type of website spanning across several styles. These themes permit customization for supporting a bunch of plug-ins for the user to choose from.
The core reason why multi-purpose themes are gaining immense popularity is because of the fact that it covers a huge number of websites. Today, many organizations have started opting for WordPress for the development of their business website. Considering this reason, it is expected that multi-purpose themes will be gain popularity in the coming year also.
3. RIse of AR/VR
The 'reality-based' technologies have already transformed the world in recent times. Today businesses have chosen AR and VR to leverage their reach and attracting more consumers in the process. WordPress already supports VR content with a full 360-degree view of images and video. This popularity can be seen to reach new heights in the coming year as the photo and video-based websites are going to use these technologies extensively for boosting their sites.
4. Website Builders
Despite a wide array of plug-ins and themes needed for smoother web development, some developers still find it difficult in creating a website, The Website Builders tool is used for eradicating this problem. What You See Is What You Get (WYSIWYG) interface allows the users to customize their webpage design on the go. This can be of great help for those who don't have much experience in website building. The website developers can also use this for gaining a competitive edge.
 5. E-Commerce
With time, E-commerce has become an inseparable entity of WordPress websites. It is one trend that has become immensely popular and no doubt this will continue in the future as well. The WooCommerce plug-in has been helping to carry out the task execution process with great effect. With the deployment of latest themes, users can look to develop a safe and powerful e-commerce configuration with great ease. In 2020, trends like subscription-based services, mobile and personalized shopping can be seen as the emerging ones.
6. Integration of Chatbots
Chatbots have been integrated besides CRM on WordPress for administering more user support. This allows businesses to monitor the user clicks on different promos across different social media channels. Chatbots can be a highly beneficial addition to the business website. They are designed to work and understand human interactions and behaviour. If the chatbots are provided with suitable information, they can be of real help for boosting user interactions and the total experience of the user on the site.
7. Large Businesses Migrating to WordPress
WordPress has now emerged to become a content management system that most of the enterprises look for enhancing their website. WordPress allows anyone to add content and images and thereby playing a role in the website functionality. Considering this fact, not only the small organizations, even larger organizations are now migrating to WordPress for hosting their website.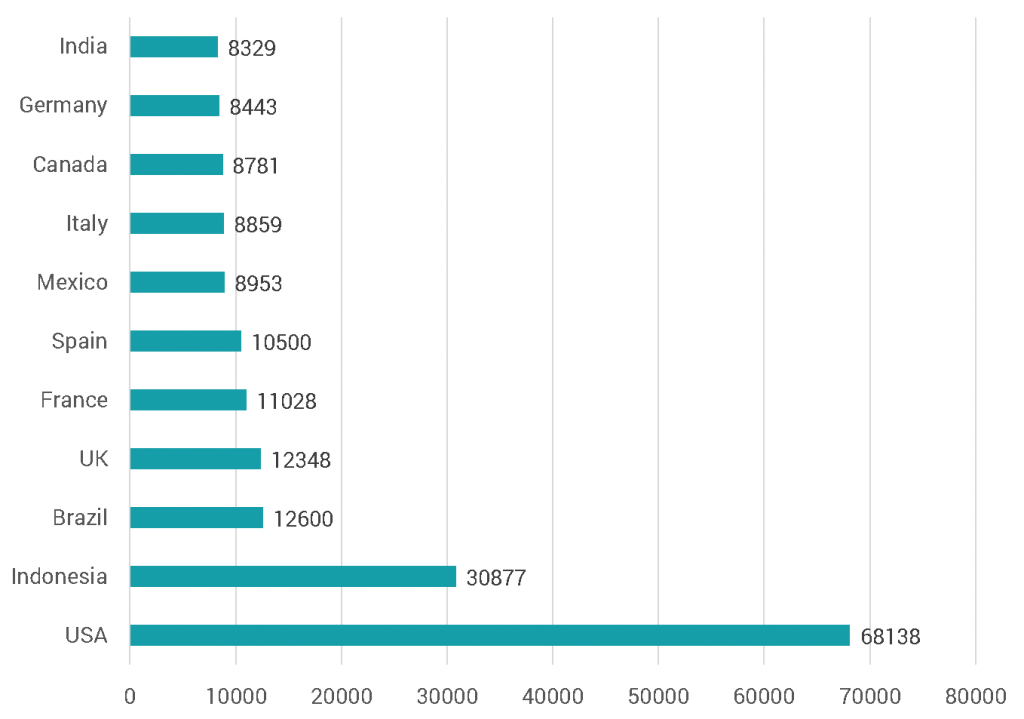 Number of Websites Hosted on WordPress Hosting (Country-wise)
Conclusion
Well, it is quite evident now that WordPress is a highly innovative platform that has been helping the users to create websites that resonate well with their brand's identity. To ensure maximum out of it, WordPress has constantly evolved. By having a clear requirement of the users, one can definitely stay ahead of others at inter and intra-department levels.
If you're looking for a trusted WordPress hosting provider then can offer you these benefits, don't hesitate to reach out to the bodHOST team for leveraging all your hosting-related requirements.