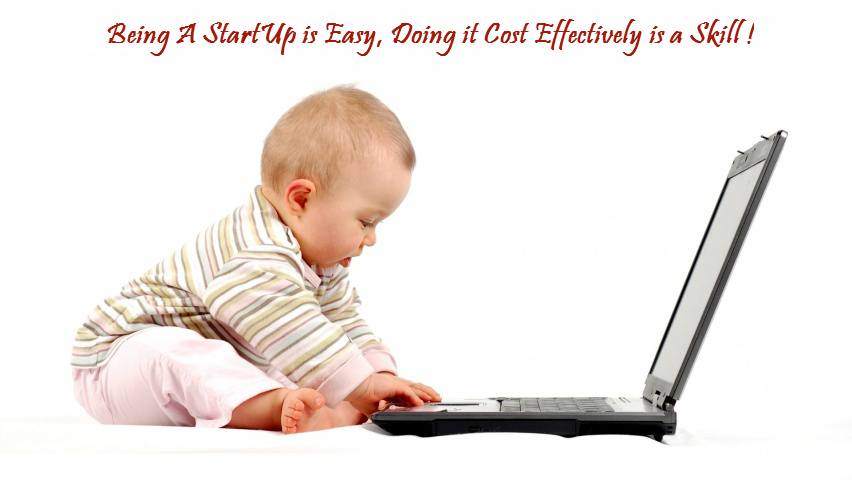 After a recent news update featuring a study wherein approximately 48% Americans want to be Entrepreneurs, we thought of writing something that can help these new entrepreneurs know about the different aspects to consider when starting a business with limited resources in hand.
Despite the differences in geographic locations, one thing that's common is the limited resources when starting up a business venture. Resources that range from finance to human resources. At the time of starting up a new business, making huge investments cannot always be a feasible choice. And with the current scenario of spiking financial conditions world-wide, it'd not be a good decision too, instead we can concentrate on investing in places where there is comparatively lower risk of loss by keeping investments to bare minimal.
You'd find a number of articles over the web that explains about starting a successful business venture. But, as a matter of fact, success comes with experience, by calculating your moves, choosing the right opportunities and driving your resources towards achieving the set targets. So, if your calculations are right and you've blended it with correct efforts, success would surely be yours.
To make a profitable business it is important to distinguish and short-list the opportunities that lay ahead of you. Whichever markets segment you to choose to deliver, you must understand that as time passes by it'd evolve. Therefore is important for you to evolve alongwith the markets demand tweak the deliverables accordingly . With virtues of adaptability and consistency one can climb heights of success, no big deal!
With a view to helping newbie entrepreneurs, we've made a list where we'd help you with suggestions for you to take into consideration when planning your path towards success:
BYOD – Bring Your Own Device
There are many interpretations to this model ie. bring your own phone, computer, laptop even technology. But the core of this is to allow people to bring their own devices at work. You may want to implement this model into your start-up venture, this would keep your overhead costs on procuring infrastructure in the first place. Plus, people are more comfortable using their own devices hence can ensure better productivity.
Later on when you believe that your business has reached a certain stage where you may easily bear the expenditure, you may replace those devices with the one's of your choice.
An Eye for seeking Business Opportunities
The Internet has brought information related to just about anything to our homes. So, using it for seeking business opportunities can be considered to be a routine task. You'd find a number of individuals selling their businesses before they reach the destination of success. Procuring such a business can hence you save on a big amount of financial costs. And since such businesses have already been into the business, there is a fair chance that people would know about it, hence giving you an opportunity to cut down on the initial efforts and expenditure of branding and promotions.
Business + Online, a need of this century
In this growing world of Internet, no business can lose the opportunity of making a presence over the World Wide Web. The business that fails to understand this, soon diminishes. I mean why not get a domain name registered by the name of your business and create a presence over the digital world. In an age where people would first search for services and product over the search engines and then visit a physical store, having a website and hosting it is a must.
Giving Users a Reason to Shop with You
One must understand that being a startup with not much reputation in the market, your chances of people believing in you would be less. You'd need to give them a strong reason to atleast try your products/services once, something which is compelling enough.
Having an attractive website that appeals to visitors can make a big difference in taking you closer to success. It's a good way to advertise about yourself, products and services, your identity over the digital world. Offer visitors some discounts, trials, coupon-codes etc. which would make a mark on their memories. This can greatly influence the chances of them revisiting your store later. If you do have a physical store then it can be a win-win situation for you. For instance, you may accept orders for products from your website and customers can collect it personally from your store. This further increases the bonding and trust between a new relationship. Moreover, if you are a good salesman, you may try doing some cross-selling too.
An age of Open Source Tools and Utilities
We see a major shift in the market with open source largely dominating the industry. First it was just Windows for which we had to pay a license fee to use it, now we have multiple open source options such as Linux, Ubuntu etc., moreover how can forget Android which is one of the first preferences for smartphones these days. The point is, if you look for it, you'd find it. There are loads of different tools and utilities that you can get for free, so why not make use of it. Even in case of developing a website for yourself, you can bypass the cost of getting it designed from a professional designer and instead use a free option such as WordPress to build a custom site of your own. The only cost which you'd need to bear is hosting it over a web server, which to is pretty cheap these days.
Implementing a No Paper Policy
Today, when the world is getting digital, opting to implement a no-paper policy at your business place, can help you cut costs on stationery and help you save on the costs to a good extent. Using emails, live chats etc. to communicate with prospects and customers can reduce time, efforts and investments for you.
Expanding to a Dedicated Office Space
Later when you reach a level of stability wherein you've started making enough profit and the demand for what you sell increased, you'd need a larger space and recruit people. Well, there may be a possibility wherein your financial stability won't allow you to invest in a space, then, in that case, you may either choose to rent it or look for skilled individuals who'd want to work for you from remote destinations. This option can further enhance the reduction of your expenditure and support you with saving to the overheads until you get things rolling smoothly.
With a view to helping individuals get a head-start with starting a web hosting venture, we have a reseller hosting solution that enables you to sell web hosting to your customers. If you are interested and want to know more about it, you may speak with us at these numbers 866 662 0909 (Toll-Free), +1.302.294.5628 (International) Or you may even initiate a chat from our website, we'd be glad to assist you. If you wish to read information, please consider paying a visit to our articles on reseller business.