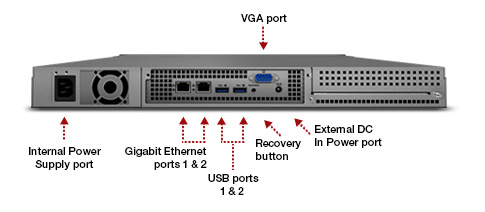 Western Digital intends to provide SMEs large account distribution for storage in rack mount server format, based on Intel Atom with a maximum capacity of 16 TB, data preservation oriented with support for virtual environments.
A call for SMEs and its branch offices of large accounts that have opted for infrastructure storage type rack, Western Digital responds with a dedicated NAS server: the Sentinel RX4100.
In 1U, this model built in single-socket based on Intel ATOM (Dual core 1.8 GHz) is positioned as the DX4000 which seems a successor. 4-bay SATA 3 (6 GB/s), the maximum storage capacity is 16 TB HDD or SSD in a Windows Storage Server 2008 R2 essentials environment.
Flexibility and security
With the aim of supporting companies in the management of information across small work groups by combining multi-approach and reasoning in terms of TCO (total cost of ownership), the work was carried on security over performance. The Sentinel RX4100 has several levels of RAID protection and hot-removable disks.
It also supports automated backup – incremental block level – thanks to a tool designed for a maximum of 25 clients on Windows or Mac OS X. The iSCSI SAN capabilities enable integration within the virtual environments disaster recovery is simplifies with the replication service Cloud KeepVault optionally available and accessible from the centralized management console (data centers are located in the United States).
After its 3 year standard warranty, the RX4100 does not show much of the redundancy of the two Gigabit Ethernet links, but by the power supply (the latter is still optional). Western Digital, which delivers configurations already, equipped with hard drives, high fault tolerance, ad rates of 105 MB/s write, without giving any estimate on reading. The speech has just about connectivity, which includes all the same two USB 3.0 and a VGA port for local administration.