IBM introduces eight new servers based on the Power7 + Processor, input and midrange.
Big Blue puts this famous processor Power7 which is now within the reach of SMEs. The new servers are optimized for analytical applications related to big data. They use technology breakthrough Watson (query tools, including DeepQA). Price is quite competitive with the proposed material convenience.
IBM also introduced new units of storage to simplify data storage in the cloud and reduce costs through consolidation.
IBM mentions that its range of products is now quite affordable for SMEs. IBM ranges: Power Systems, Storage solutions, but also new PureSystems. The manufacturer states: The new Power Systems do not demand specialized skills.
In the package the latest advances in Virtualization and automation for cloud are also available.
The power processor can be a better platform for big data and the cloud as the x 86 platforms, as Virtualization and integrated memory – key to analytics and workload in the Cloud are incorporated in the processor.
Moreover, these systems are optimized for IBM software in the field of analytical as Cognos and SPSS for business analytics and predictive analytics.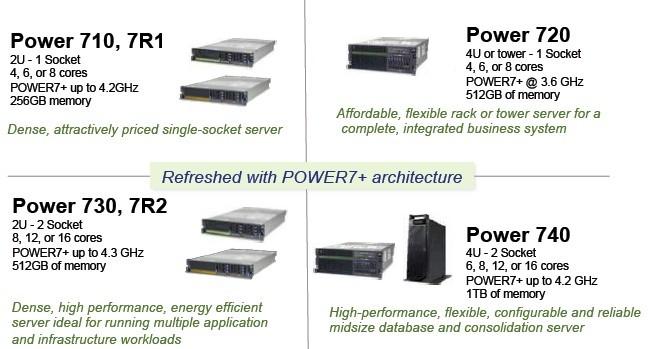 Eight New Servers
In the range of PowerExpress, four new models are introduced: 710, 720, 730 and 740. In addition, 710, 720, 730 are servers 'one socket' in 2U, for 4, 6 or 8-core Powe7. They have the light path diagnostics and work, either, AIX, IBM System I series or Linux. 740 exist in the 'one socket' or '2-sockets', rack mount or tower server format. It accommodates up to 12 Power7 cores and 16+.
In the range PowerLinux Systems, the 7R1 and 7R2 models are now optimized for Big Data Analytics software IBM InfoSphere BigInsights and InfoSphere Streams. In the package, IBM offers two extensions to mobile applications (iPhone, Android and BlackBerry): IBM WebSphere Solution for Mobile and Web Application on PowerLinux.
In the range Power Systems for medium and large accounts, 750 and 760 allow centralize workloads for big data analytics and Cloud computing.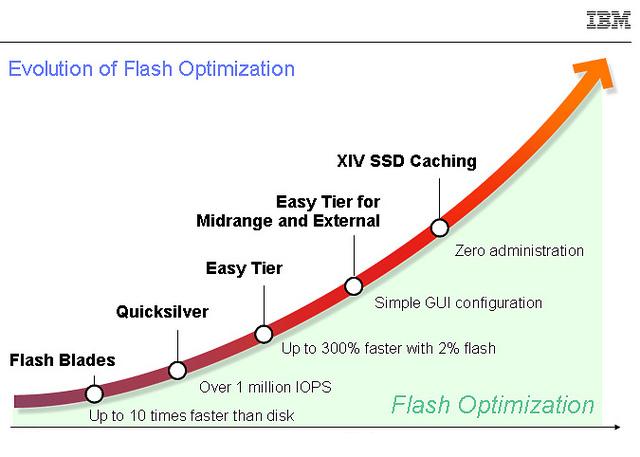 New Storage Systems, one XIV
Three announcements were published in the February regarding to 5 data storage:
IBM SmartCloud Storage Access for the first time, a solution like DropBox, which allows setup Private Clouds for secure storage. IBM presents as a self-service portal on the web. Any user can create an account, set the required storage capacity and thus move its files in the cloud – without any external expertise assistance.
New version of the solution XIV storage supports environments 'Big Data' and provides up to 12 Ethernet links to 10 GB/S or 22 Ethernet ports 1 GB/S, up to 6 terabytes of cache technology 'Flash'. The performance gain is a factor of 5 compared to the previous generation to the "Workloads" of 'data'. A new power supply reduces power consumption by 16%.
New machine 'model STN7800, v4.1 for Real-Time Compression: It supports a large number of complex environments. It is based on a "System x" server technology "System x", provides a compression ratio of 5 in real time. The software license for a machine is unlimited. Its bonds are 10 GB/S Ethernet over Optical Fiber, or 1 GB/S Ethernet copper or a combination of links to 10 GB/S and 1 GB/S.