What is cPanel?
cPanel refers to a web-based graphic control panel that is used for creating websites and managing the web hosting account. It gives the web hosting customers and owners with a user interface intended to help in making and managing the shared server as well as their website.
Features of cPanel
Security remains one of the most important features for any product or service. cPanel gives the utmost security that is well protected by password-encrypted directories, SSL and IP address denials.
cPanel can help in monitoring the customer website for performance-based metrics such as- optimal disk space usage, editing and performing backups of files and folders, thereby, reducing the work of the user.
cPanel offers an easy server management that can be made available to dedicated and VPS servers by the means of command-line scripts. These help in maintaining and resolving issues pertaining to servers. These issues could be inclusive of performing system backups, automating the process of account terminations, restarting the server using the SSH, restoration of an account to name a few.
cPanel is also used by the businesses for creating and managing several mail accounts, forwarders along with autoresponders and also accessing the mails by clients. cPanel helps in blocking any kind of spam and creating new filters in order to enable this.
Advantages of cPanel Hosting
Following are the distinctive benefits that cPanel web hosting has over other available hosting services-
Easy installation and usage
cPanel is easy to install and needs only a Linux system with a minimum of 20 GB disk space and 512 MB of RAM. Once the installation of cPanel is completed, the users don't face any problems pertaining to its handling or usage, because of its user-friendly graphical interface. Complex tasks could be monitored easily by just a few clicks.
Easy Accessibility to Numerous Features
cPanel is quite rich in terms of features that it has. These in-built features and functions allow the users to manage their websites and hosting account with a great amount of ease.
Considering the example of an email management function in cPanel. With this function in place, the users get a quick and easy set up for their email accounts. Besides these, the users are also offered by additional features like anti-virus and anti-fraud protection.
Another additional benefit that cPanel offers to its end users is compatibility. cPanel is easily compatible with different web browsers. Also, cPanel can support third-party software add-ons that might be helpful for the users in building dynamic and robust websites. The add-ons could be blogs, bulletin boards and the use of these apps benefits the website owners and the enterprises as they can improve their site functionalities.
cPanel hosting is highly portable coupled with a straight movability feature. This allows the users to perform the transfer of their websites from a hosting company to another company without facing any technical issues or problems.
cPanel hs the ability to automatically detect errors and then accordingly restart its system by itself with a new and refreshed service. cPanel holds reliable support on which the user can rely upon.
Management Tools in cPanel
Following is the list of various management tools present in a cPanel hosting-
With cPanel hosting, it becomes easy for the user to manage his emails. One can create, edit and remove any number of emails using cPanel. The user can also update his password and then configure his mailbox. If a user wishes to access his mails on the go, then cPanel makes it easy to do so using webmail from any device that is connected to the Internet.
cPanel houses a comprehensive set of tools related to File Management. These tools allow users to upload, create and delete their files. It also gives users the potential to organize their files present in folders, thus allowing the user to change the file permissions. It provides users with a basic set of features that are needed for managing files. A user can also carry out backups from the cPanel's File Manager, depending on the degree of backups.
Software Installations Using Softaculous
Softaculous is a tool that allows users to automatically install several software applications on the hosting with a just few clicks. Softaculous plays a key role in setting up any kind of user website.
cPanel offers a number of tools that can effectively manage user domains. The user can set up the previously fetched domains for directing them on to his domain. He can even create Addon domains to minimize hosting costs. Users also get to set up their subdomains, redirects and manage the DNS zone setting using cPanel.
cPanel has a number of database management features. cPanel is configured with MySQL as the standard database. The user can manage his databases with the help of PHPmyAdmin.
cPanel has a number of other useful software that is pre-installed. There are a number of advanced programming options like Ruby, RubyGems, etc.
cPanel enables the webmaster with supreme confidence and control of managing his successful online presence with its simple yet powerful interface. cPanel could also be used for managing several sub-domains with great ease and speed, thereby, making it stable, dependable as well as a versatile web tool. For a user with a limited website development skill, he can still use the cPanel's capabilities completely for creating a feature-rich website almost instantly.
So, if you're looking for a cost-effective cPanel hosting provider, then bodHOST is the best solution for you with exciting cPanel web Hosting plans and offers to match all your hosting needs.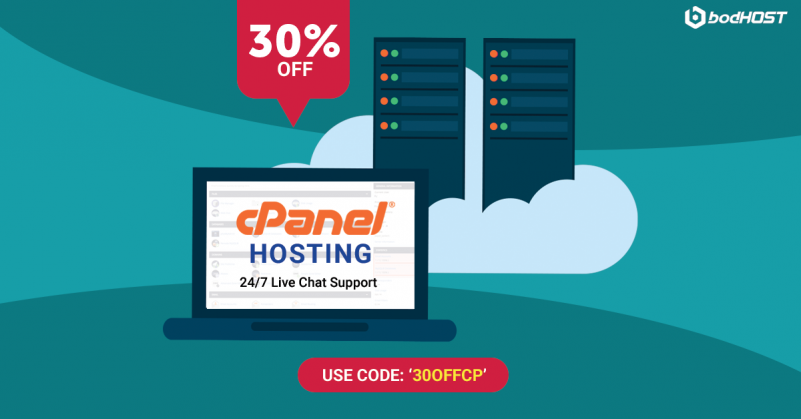 Get instant 30% OFF cPanel Web Hosting using Coupon Code- 30OFFCP