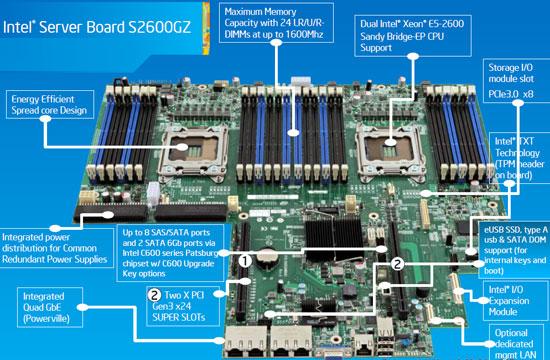 The Intel Xeon E5-2600 server is powerful and scalable to adapt to the requirements of the organization. It is mainly designed for organizations that need to build advanced server infrastructure dedicated to Virtualization, high performance computing, the GPU or other demanding application server. This platform was designed to carry out its role as a pillar with the greatest possible flexibility, which involves a broad support of memory and plenty of expansion with a wide range of storage connectors' possibilities.
Intel Xeon E5-2600 is based on the latest technology and optimally managing the 6 core processor like Intel Xeon E5-2620 2.0 GHz server. RAM type DDR3-SDRAM ECC and ECC registered up to 8 SAS 6GB / s (via 2 Mini-SAS connectors), 4 SATA 3GB / s (via Mini-SAS connector 1) and 2 SATA 6GB / s (two included) and modes RAID 0, 1, 5 and 10, this server has a lower cost of ownership and high scalability. Strengthening Data Protection, performance, security, Virtualization capabilities and energy management, this server provide a unique profitability for organizations which are looking for a reliable, efficient and economic solutions.
Chipset Intel C602 components
The Intel C602 chipset offering a wide storage connectivity supporting high transfer rates thanks to revisions SATA 6GB / s SAS. So you can connect up to 8 SAS 6GB / s, 2 SATA 6GB / s and 4 SATA 3GB / s. Data security is of course not left with the equipment levels supporting RAID 0/1/1E/10/5.
Intel Xeon E5-2600 series
Servers, workstations and storage solutions equipped with the new processors Intel Xeon E5 combine performance, profitability and integrated technologies to improve the flexibility and efficiency of data centers. Virtualization, cloud computing, CAD, real time financial transactions, etc…. All tasks can now benefit from superior performance. And the fact is 99% of current data centers, including public infrastructure and private cloud are using the Intel architecture.
Scalability, flexibility and adaptability
This server can also receive up to 512 GB of RAM and supports up to 1600 MHz frequency. The most demanding applications can be supplied with ample memory. High performance Ethernet controller and low power Intel i350 (supports EEE and coalescence DMA) provides a unique and stable application Virtualization network connection. Server integrates native support 3rd generation PCI Express platform and includes connectors for a wide range of extensions in order to accommodate the particular larger graphic cards.
Scalability characteristics:
Double Intel Socket LGA 1356 for the management of two Intel Xeon E5-2600 series (one processor supplied)
16 memory slots DDR3-SRAM (ECC) – Up to 512 GB ECC RDIMM (Registered ECC) and 128 GB ECC UDIMM (non-buffered ECC)
2 Ports PCI-Express 3.0 16X / 1 Port PCI-Express 3.0 8x mechanical (electrically operated at 4x)
2 Mini-SAS connectors 6 GB / s LSI SAS 2008 chipset (supporting 8 discs)
4 Serial ATA 3 GB / s + 2 Serial ATA 6 GB / s
Managing RAID 0/1/5/10 (SATA) and RAID 0, 1, 1 E, 10 (SAS)
Full connectivity: 1 x Serial (RS-232), 2 X RJ45 Female, 4 x USB 2.0, 1 x VGA
Supply EPS 12V 750W 80 PLUS Bronze