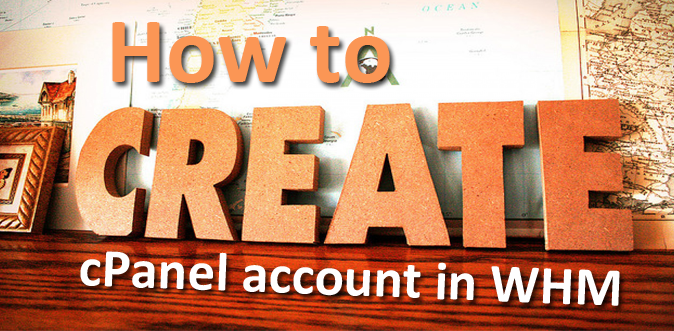 Started your ecommerce business? That's great! But have you thought upon choosing a hosting plan? You have three options to choose – dedicated hosting, reseller hosting and vps hosting. Whatever you might choose, to run a webserver for the first time can be intimidating. Though some of you might be enable to run a cPanel account, there's much knowledge to grasp about Web Hosting Manager (WHM). Firstly, you should learn about creating a cPanel account in WHM.
Here are steps to create a cPanel account within WHM –
Login to your WHM –
To start with, login to your WHM. There are two ways to navigate from here to create a cPanel account. First method – Click on the Account Functions – Create a New Account. Other method – Search for Create a New Account in the Find bar in the upper left corner of WHM.
Domain Information –
Now, you need to enter the information about your domain. The information contains username which contains first eight letters of the domain name. Then type and re-type the password to ensure you have entered the password correctly. There's also a built-in password generator for creating a secure password. Then comes the e-mail address which is required by the WHM to send the account information as events warrant.
Package –
You need to decide the account package after entering the domain information. There are bundled configuration settings in cPanel which can be used to give same bundle of settings to multiple accounts without any hassle.
But since you are just starting your business, you can check the Select Options Manually and pick from those options and save as a package. These options are set to "zero" or "unlimited" by default.
Firstly, you will require to change Disk Space Quota which will help prevent server wide-space problems. The second option is for bandwidth and has similar benefit as Disk Space Quota. After the second option, there are further eight options wherein you need to insert an integer rather than megabyte values. Third options is for FTP limit and forth for e-mail accounts. Fifth for mailing lists and sixth for MySQL databases.
The seven, eight and nine options are to decide the values of subdomains, parked domains and add-on domains while the tenth is for number of e-mails sent/hour. The eleventh and last option is for resource in the form of percentage and is useful for restricting the amount of failed sent mails.
Settings –
Now let's decide the settings for your cPanel account. It starts with a Dedicated IP, to determine if the account is or isn't hosted on the main shared IP address.
Shell Access, the ability to SSH into the server with the chosen username at the start.
FrontPage Extensions, the ability to upload Microsoft FrontPage sites. Leave it unchecked since FrontPage has been discontinued by Microsoft since long time.
CGI Access, enables to serve pages using CGI scripts.
cPanel Themes, offer multiple theme options that can be viewed by the cPanel user after logging in.
Locale is for selecting language that is displayed on the cPanel account.
Reseller Settings –
With reseller settings you can decide if this new account should have WHM access and if others are enable to create accounts themselves.
DNS Settings –
You can apply these settings only if the server is hosting DNS for this account. It comprises of DKIM and SPF which are the measures to prevent spamming.
The third option is for configuring name servers that are set for the domain. If you leave the box unchecked, it will take the default name servers configured for this server. If the box is checked, WHM will do DNS lookup on the domain and utilize the name servers that are configured at the DNS registrar.
The forth option is for overwriting any DNS zone files for the domain you are creating which might have been put on the server previously.
Mail Routing Settings –
You can choose only one item from a list with Mail Routing Settings. The default and recommended configuration is the first one – Automatically Detect Configuration. By choosing this, the mail server will configure using the current DNS settings.
Next is the Local Mail Exchanger which you can check if you are planning to use this account for email of the domain.
Backup Mail Exchanger, useful only if you have multiple servers and want the cPanel account to be a backup for an account on another server.
The last one is Remote Mail Exchanger that instructs the mail server to pass any mail that comes its way to the correct mail server.
Create –
After all the information is filled, click Create at the bottom of the page.
Congratulations! You have created a cPanel account in WHM.