Users can use cPanel's User Manager tool for creating new user accounts related to Email, FTP or even Web Disk Services. In this post, we are going to give you a detailed step-wise procedure on how to create a new user account in cPanel, set up their passwords, and allot certain services that are made available to the new user.
Accessing the User Manager
Login to your cPanel account.
Scroll to the Preferences section and then click on User Manager.

Once the User Manager gets opened, click on the Add User Button for creating a new user account

Create a new user account by filling the form below. You'll have to provide the following details-
User's full name
Account username
Mention the exact domains that the user can access in case of multiple domains
Email address for contacting the user
You also have the choice to either ask the user to create his password or provide him with one.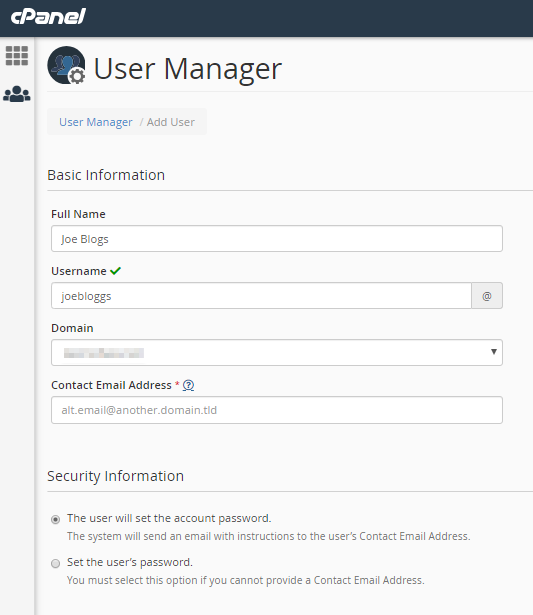 If you allow the user to set his password, email is sent to him with instructions on how to do it. If you set the password, a dialog box opens where you can generate a random password or fetch one that you have created.
Specify The User Services
You can enable or disable the user services by clicking on the slider placed next to each of the services box present at the bottom of the form.

When you enable any service, you can set the following options-
Email options allow you to define the size of the user's inbox
FTP options will allow you to limit the maximum size of files that need to be uploaded and stored
Web Disk options allow you to restrict the user's access to directories and also control whether they can read/write or read-only permissions.
Completing The New User Creation Process
Once all the user details are entered and granted the required access and permissions, click on the Create button present at the end of the page.
Hence, the new user is created on cPanel.
We sincerely hope that you must now have got a clear idea regarding how you can add a new user in cPanel. However, if you are still facing any difficulty in the procedure mentioned above, feel free to reach out to the bodHOST Team for a proactive support 24×7.