For most of the medium sized businesses getting a dedicated server is not possible due to the huge costs associated with it. In such a case, businesses can certainly opt for bodHOST's virtual private server often known as VPS or VPS Hosting. It is one of the best and affordable alternatives to a high-end dedicated server.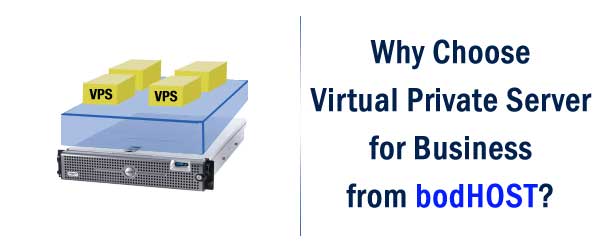 Unlike shared hosting and similar to a dedicated server, a virtual private server offers various benefits for SME's and SMB's. Some of the core advantages of having a bodHOST's Virtual Private Servers are listed below:
Cost Savings – If you are small or medium sized business, or a business that is just getting its first step in the industry, you will need to search for ways to save your money. If your requirement is a dedicated server and it's out of your price range, then choosing a VPS Hosting service would be a good option as it will save dollars for you without compromising the server features.
Complete Isolation – bodHOST's Linux virtual private servers are completely isolated from other customers' vps. It simply means that, no customer can make changes or interfere with another customer vps, even if they are offered with administrative access.
Root Access – Most of the time businesses don't need the power of a dedicated server, however their main requirement is to have administrative rights to manage various things on their server. Unlike shared hosting, the bodHOST's VPS Hosting provides the client with the "superuser" powers which enables clients to modify various system files including the adding and modifying users. Customers can also manage, restore and re-install their Linux vps by their own without relying on the bodHOST's technical support team.
Completely Secure – bodHOST's Virtual Private Server's architecture is completely loaded with firewalls and strict security measures are set in order to ensure that customers' vps stays away from malicious and brute-force attacks.
Easily Upgradeable – If you recognize that your business is growing fast, then a VPS server allows you to upgrade the resources and plan to the higher one or opt for a dedicated server very easily.
Certainly, bodHOST's VPS Hosting is perfect for SME's and others who can't afford a dedicated server but want to take benefits of dedicated server features.