A web hosting control panel is a GUI (graphical user interface) used in the management of the server or hosting account. The graphics are easy to interpret so that even a layman would understand and get a hold of it in no time. There are different types of control panels available on the internet. Like :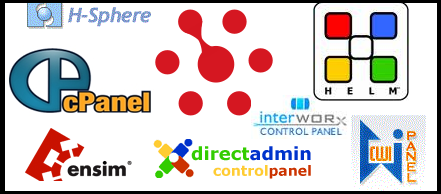 cPanel: http://www.cpanel.net
Plesk : http://www.sw-soft.com
H-Sphere : http://www.psoft.net
Ensim : http://www.ensim.com
DirectAdmin : http://www.directadmin.com
Interworx : http://www.interworx.info
Helm : http://www.webhostautomation.com/products/helm
Hosting Accelerator : http://www.hostingaccelerator.com
InsPanel : http://www.inspanel.com
CWIPanel: http://www.cwipanel.com
However, cpanel is the best control panel. Users get many advantages with cpanel.
cpanel is a UNIX based graphical control panel, which permits automation tools designed to make the procedure of hosting a website easier. The software is distributed by cPanel Inc. and one more important point is that users have to pay the monthly license cost for this control panel. Cpanel is compatible with Redhat Enterprise Linux, CentOS, and FreeBSD.
Why cpanel would be the best control panel :
Now cpanel is the world-famous control panel which helps the users to simplify the server administration and management. The reason for its popularity is not just, it is the simplest control panel, another reason is that, it is the most eye pleasing or attractive control panel. For the above reasons, Cpanel is provided by many web hosting providers.
Cpanel is the cheapest control panel which allows you to monitor all aspects of your website. You can find-out the utilized amount of bandwidth and also find-out the daily or monthly or yearly website traffic details with it. If you want to personalize, then you can do that very easily with cpanel. It is very easy to use, that's why you don't require previous experience.
In case of web hosting, cpanel is the most popular control panel. It is very famous for its stability, simplicity and functionality. Other than the above advantages you get an amazing advance feature with cpanel control panel. It permits you to manage your complete server remotely with any Mac OSX, Windows or Linux workstation.
The cpanel is the top seller control panel because users get many advantages of utilizing cpanel.