Veeam Task Manager for Hyper-V is a monitoring utility for a Hyper-V host and its virtual machines. The objective of this free tool is to provide a task manager that lets you to view the use of resource in real-time, both for the host and VMs it contains.
It approaches the task manager to Windows, and in my opinion it is more appropriate that the information provided in the Hyper-V Manager.
What you should know before downloading Veeam Task Manager?
Before you begin, you should know that it needs to be installed on a client computer, the application requires operating systems > Windows 7, Windows 8, Windows 8.1, Windows Server 2012, Windows Server 2012 R2.
If you want to install the application directly on the Hyper-V host, you must have Windows Server 2012 or Windows Server 2012 R2.
For the application to Veeam Task Manager for Hyper-V can collect data on the Hyper-V host, you need to open TCP port 445 in your firewall, from the client to the Hyper-V host.
Before continuing, install the MSI package for the application. Moreover, the software can be easily installed on a USB stick for use in portable mode.
Using Veeam Task Manager for Hyper-V
Open the app and log in to your Hyper-V host, unless there is an automatic local execution hypervisor connection.
You will then get the manager of Veeam tasks for Hyper-V on the upper left where you will see information related to your host such as name, processor and RAM.
The most interesting is the section where you can find the host and the list of virtual machines. For each item, you can visualize CPU usage and memory usage in real-time.
Note: Virtual machines that are not started will not be visible in the manager.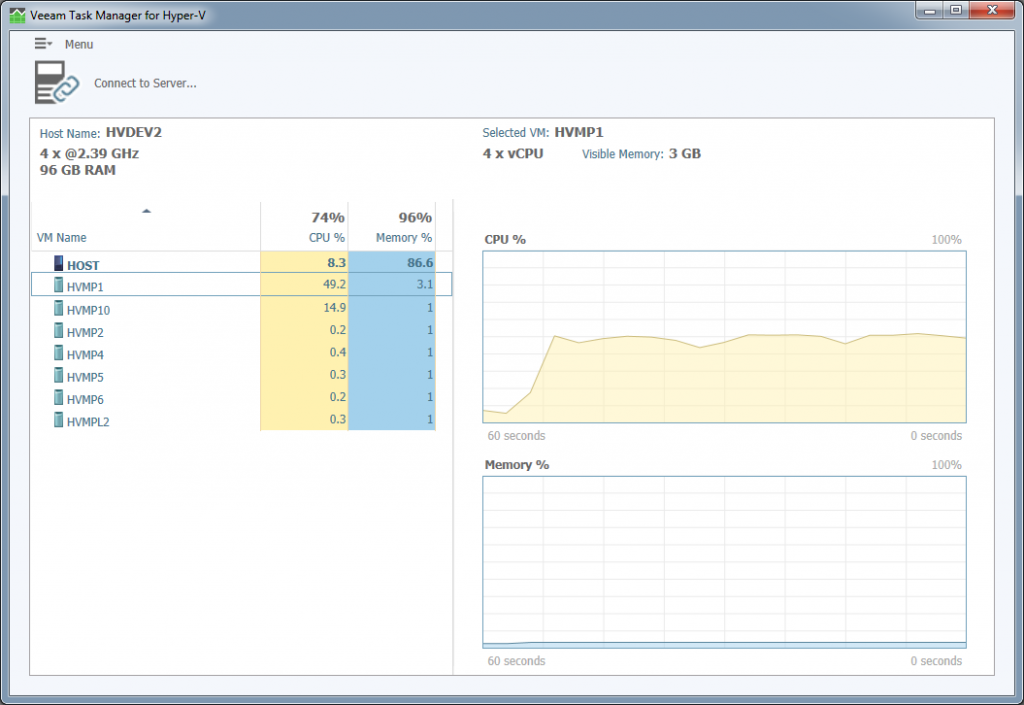 For a virtual machine, the principle is the same:
The only parameter which can be accessed, it is the frequency of the updates available in the (update speed) menu: High (data collected every 3 seconds), Normal (data collected every 9 seconds), Low (all data collected 15 seconds).
This handler is more pleasant to use than Hyper-V Manager, which does not provide this information graphically. Though, it is too bad that the application does not include additional features to make it a true Virtual Machine Manager.
In fact, on closer range Veeam products, we realize that this product is a light version of the applications Veeam One and Veeam Manager Pack.
What do you think of this application? Can you think of others?